College, check!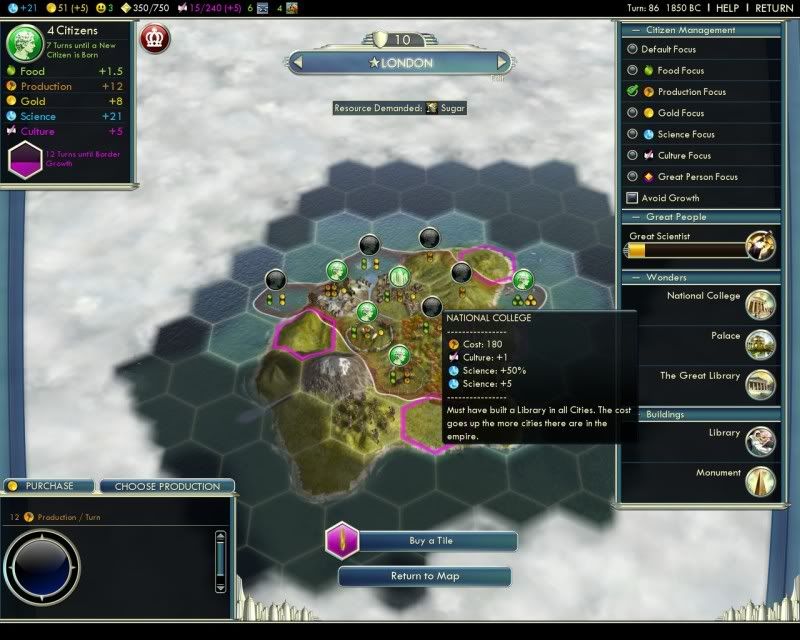 Very delicious science boost, check!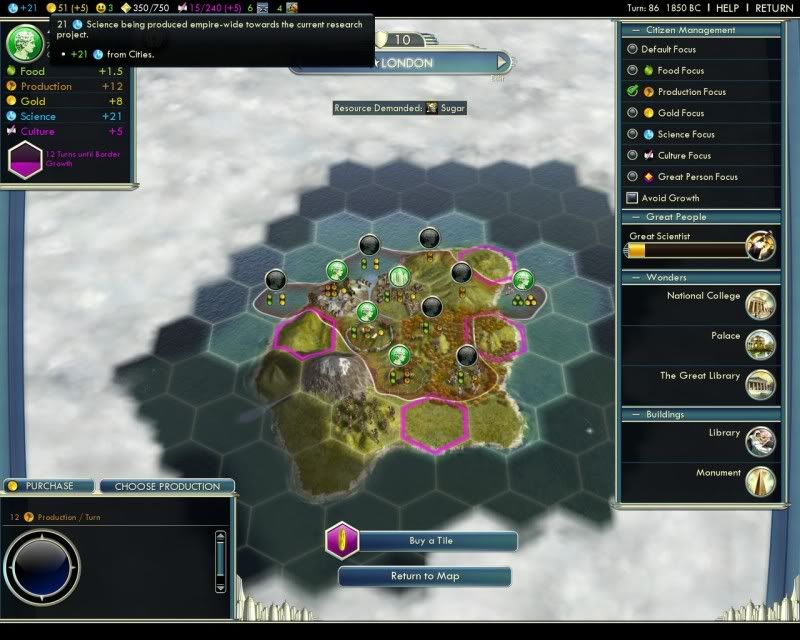 (That's +21 from a +9. Gotta love it.)
Horses! Check!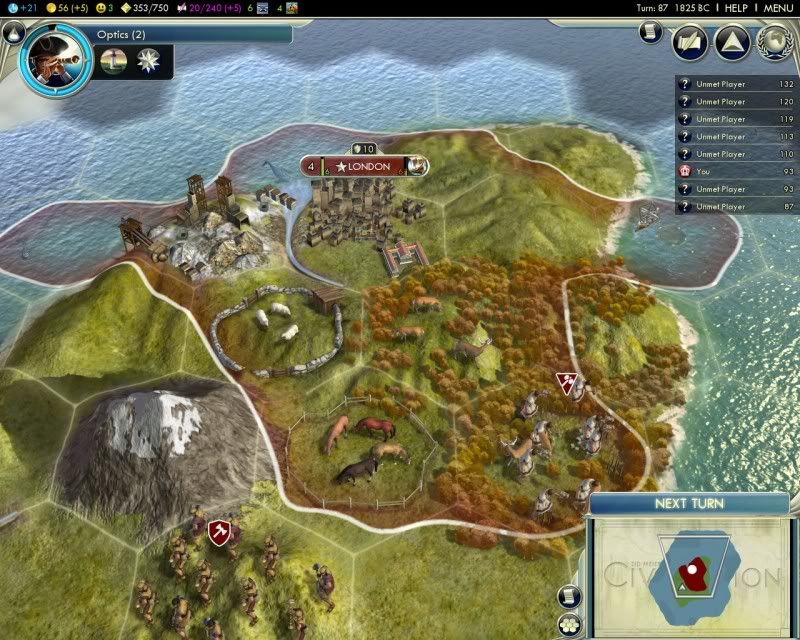 And now the real fun begins...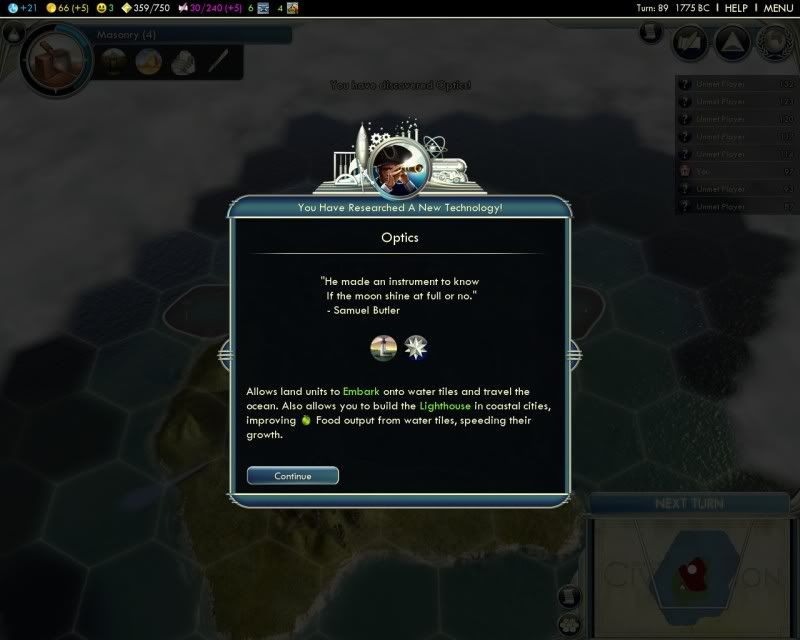 Optics! Why is this the key? Because Optics unlock land unit's Embark ability. Put simply, there are no longer any 'transport ships'(ONLY ZUUL). Instead, each and every land unit(once you hit Opticss) can put themselves on a boat and sail around.
Of course, Optics only allows Coast-tile seafaring(like with your other early boats), but this allows you to explore more than just coastline; which also means the map explotat--exploration shall begin in earnest!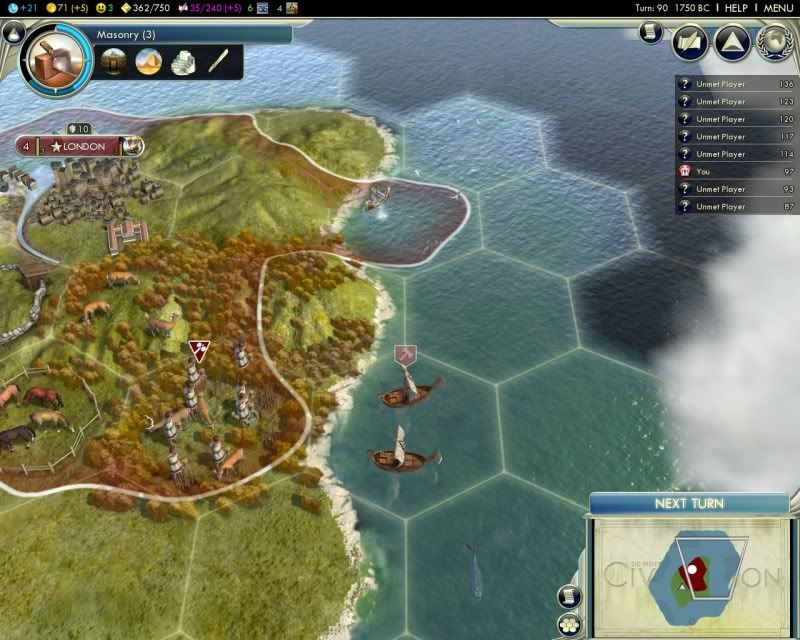 Sure enough, within a turn or so we meet our first city-state!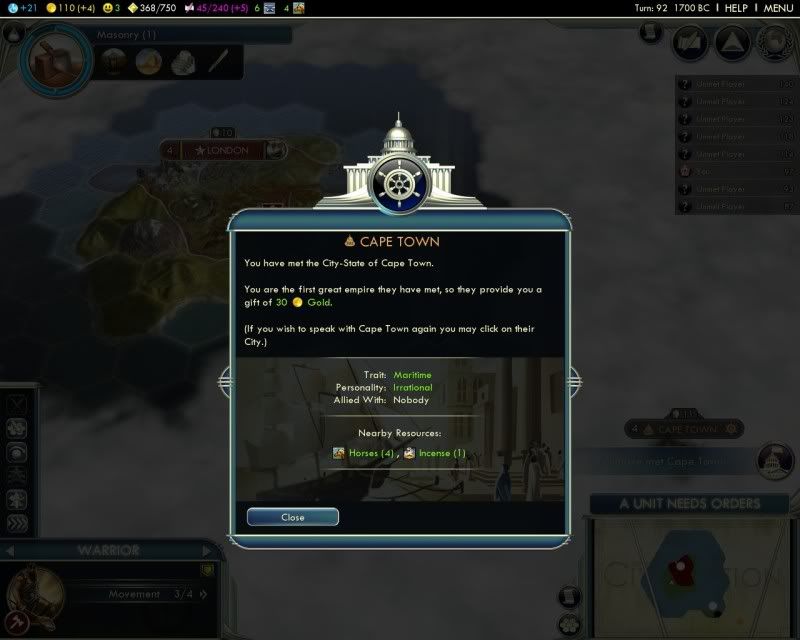 Pretty sure I covered City-states fairly well eariler in the thread, but a recap:
City-states are one-city Civs with a reputation bar. You can increase this rep bar in various ways to reach Friend or Ally status(each Civ has it's own rep bar with each City-State, so while there can only be one Ally, there can be several Friends).
Friend status will give you a bonus based on that City's trait(in this case, Maritime gives your capital a food-bonus). Ally gives you, well an Ally. It also allows you to reap the nearby tile bonuses(in this case, 4 more horses and an Incense).
Each City also has it's own Personality trait, which influences what kind of rep-boosting requests they may ask of you(take-over a nearby City, produce a Great Person, Kill Barbarians, etc). In this case, Irrational means they'll pretty much be completely random.
The only other way to increase their rep-bar is by giving gifts of gold. By the by, did I mention that the Rep-bars will slowly go down every turn? Fortunally, there are various Culture-techs that allow you to vastly slow down the rate of decay(one Civ, Greece I think, is built for City-State abuse. Can practically stop the decay.)
SO! Nearby City-state eh? Let's go check it ou---oh dear.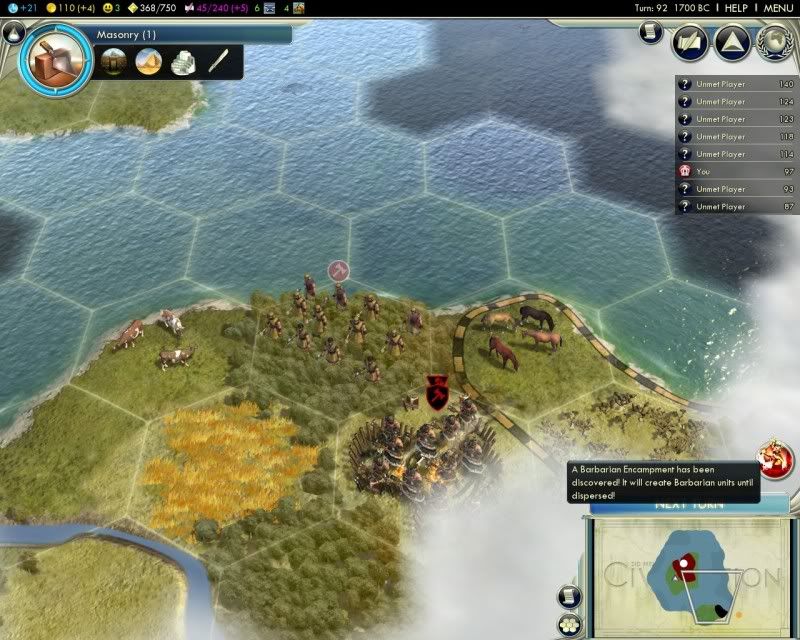 Embarked troops have a LoS of exactly one tile, so there's often times when you land on an otherwise peacful shore to find an ugly welcoming committe. In this case, there's a Barbarian encampment(spawns Barbs) waiting for us. Glad I'm not that exploration party!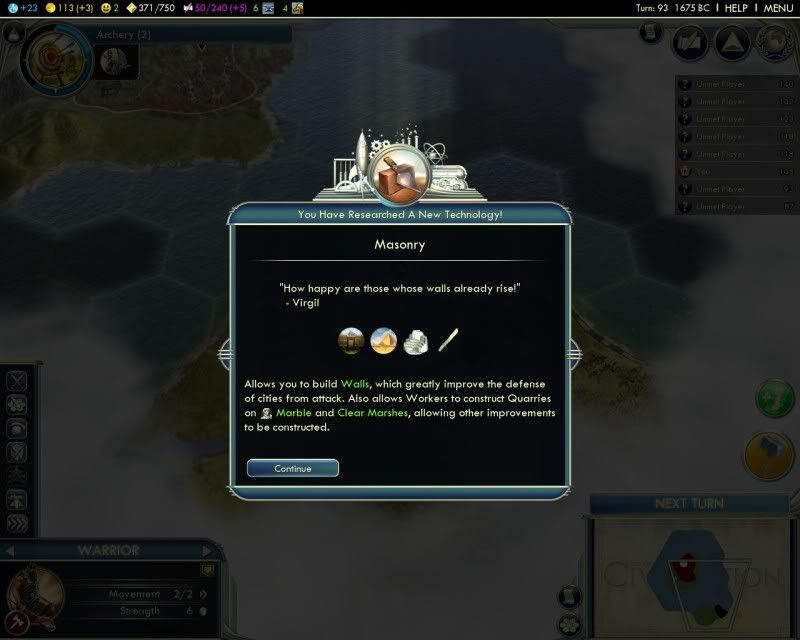 Masonry! The art of carefully placing one brick atop the other in a glob of mud and other various stuff. Will come in handy, although it is HELLA weird only getting this now, I usually go for the pyramids ASAP(+worker construction speed, very handy for large empires).
Another turn, and more info is visiable about the Barbs: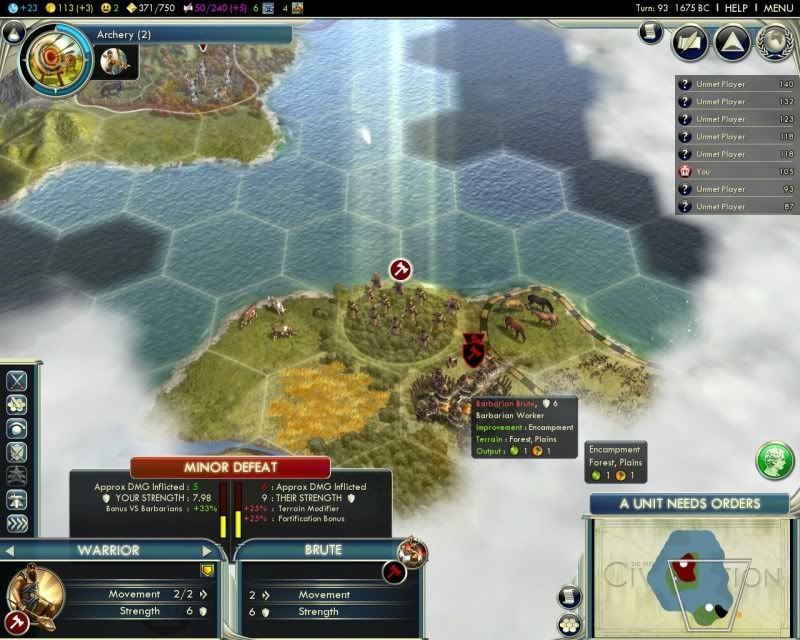 Oh dear. The encampment seems to be in a forest. As anyone defending in a forest or hill square gets a 25% bonus to their strength, that means attacking them at this point is a very stupid idea. I think we'll go look over to the west, k?
Well hello!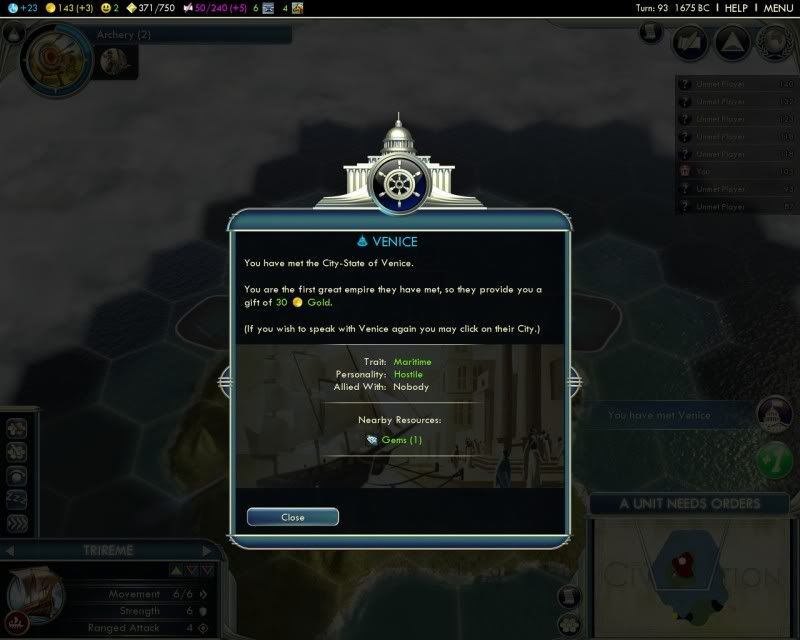 Yet another Maritime City-State, this time with a Hostile personality(being Venice, I suppose they're still angry at Indy's comments about them...).
Not going to be too worried about spending cash on these guys just yet, going to try to save the gold for buying up a few Settlers soon to expand.
...Then again, I might have some spare gold lying around now: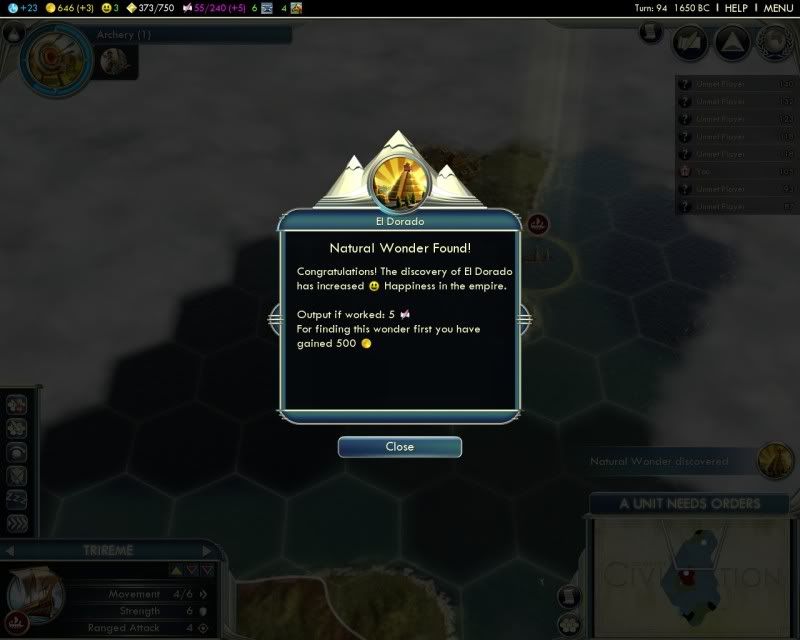 EL DORADO! Woo! Best thing about being the first to find this? A quick 500 Gold!
Settlers ARE awfully expensive though, so I'll probably sit on this for awhile and weigh my options carefully...
Another City-State: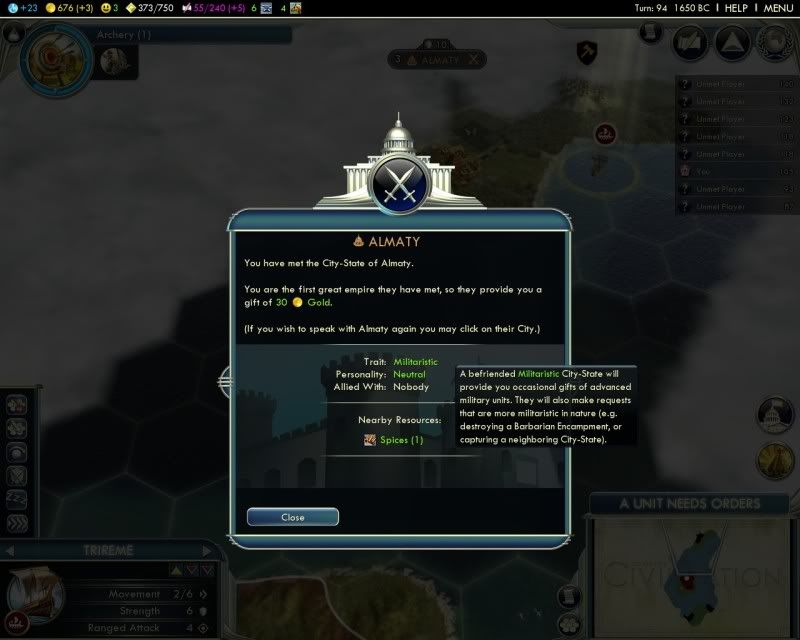 Almaty is a Military City-State, which means a Friend is occasinoally gifted near-tech miltary units(Allys get them faster). Not bad, but low-priorty just yet. Gotta find someone to beat up before we worry about it.
SPEAK OF THE DEVIL.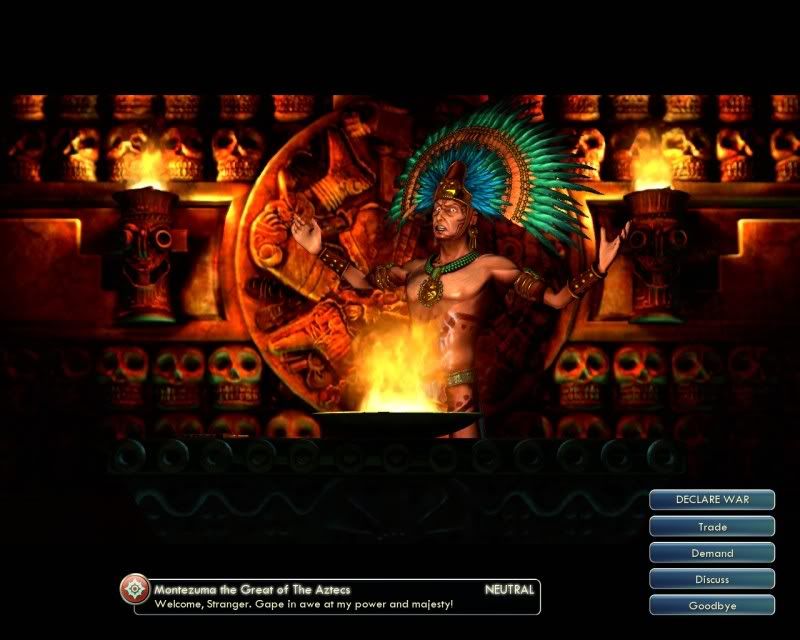 Yes, hello Monte! ..um, did you say 'Gape' or 'Ape' there? I mean, that's a fairly impressive gorilla impre----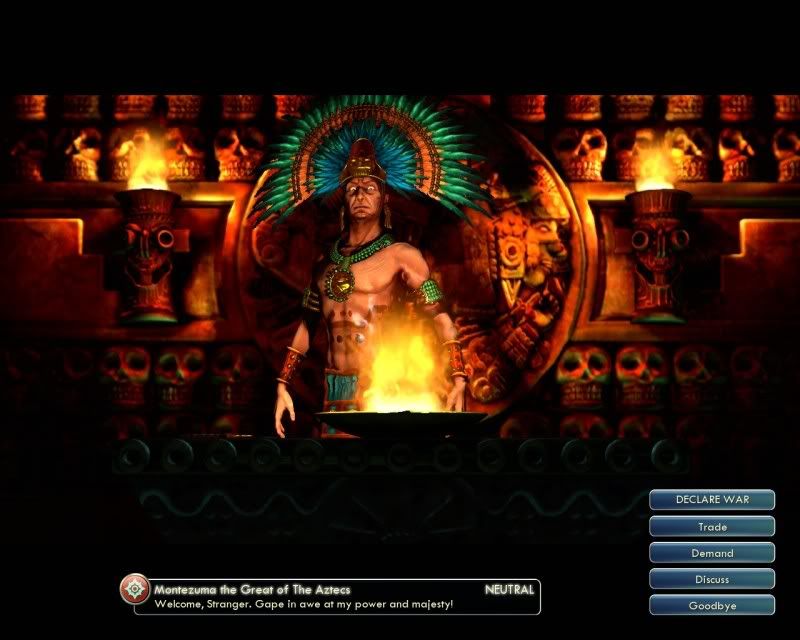 ....Shuttin up.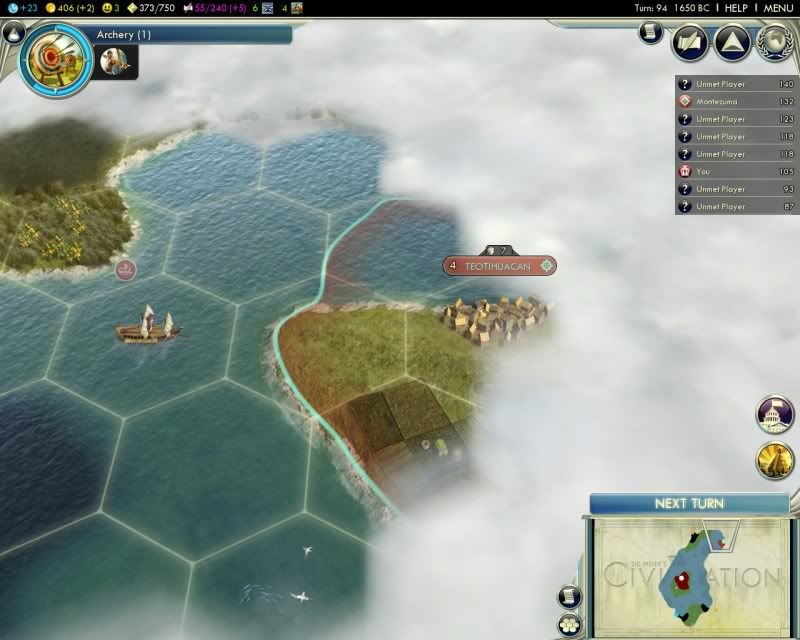 Well, doesn't look too terriably big just yet, even though that's not his captial. Will have to map him out, I think. He's the closest neighbor so far(And second-overall on the score, even if it is still all rather close), so he's high on the threat-list just yet.