C'mon c'mon, let's stick together...
West Africa is going to be mine, with a division left guarding each beach against assault.
von Kluge's leading the infantry and dropping the individual divs off, after licking a hanky and wiping their muddy faces with it, while Guderian's panzer spearheads capture undefended province after undefended province.
East Africa is going to be in
Italics
, if they can manage to push the Brits out. There are plenty of Commonwealth troops around too, so I've had to send von Rundstedt at the head of an army to assist.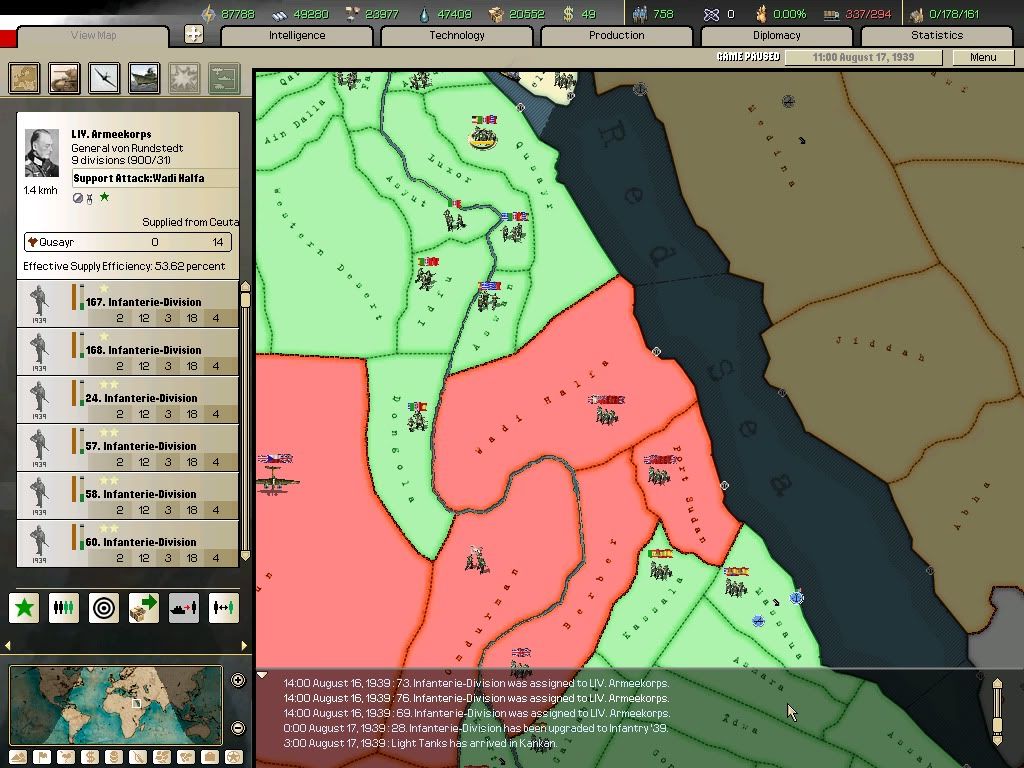 It's a full Axis versus Allies effort, and it's getting strenuous.
In Asia, the Japanese are doing well.
I hope they declare war on the SU. If so, I'll launch an offensive ASAP, and the Axis will crush the Commies, with Poles, Czechs, Bulgarians, Italians, Spaniards, Greeks, Hungarians and Germans all rolling forward together, as one, in overpowering friendliness.
North Africa belongs to the Axis.
And soon, South Africa will be ours too. Italy's still going strong, but they keep leaving the coastlines undefended, letting the Allies land behind them. My panzers are spread thin, often bopping back and forth as they race forward and get pushed back, but overall it's going very well. Portugal has put up a valiant defense, but it's losing overall, and pretty soon their forces will be wiped out. The bottom third of Africa will be solid Allies by the time we get there.
The Battle of Britain isn't going too badly. Brit fighters are rubbish, three steps behind, but their interceptors are just as good, if not better, than mine. Although equal technologically, they must be well ahead doctrinally, as even with a 2:1 advantage my ints are taking a thumping. Of course, the Brit radar and AA guns probably help a little.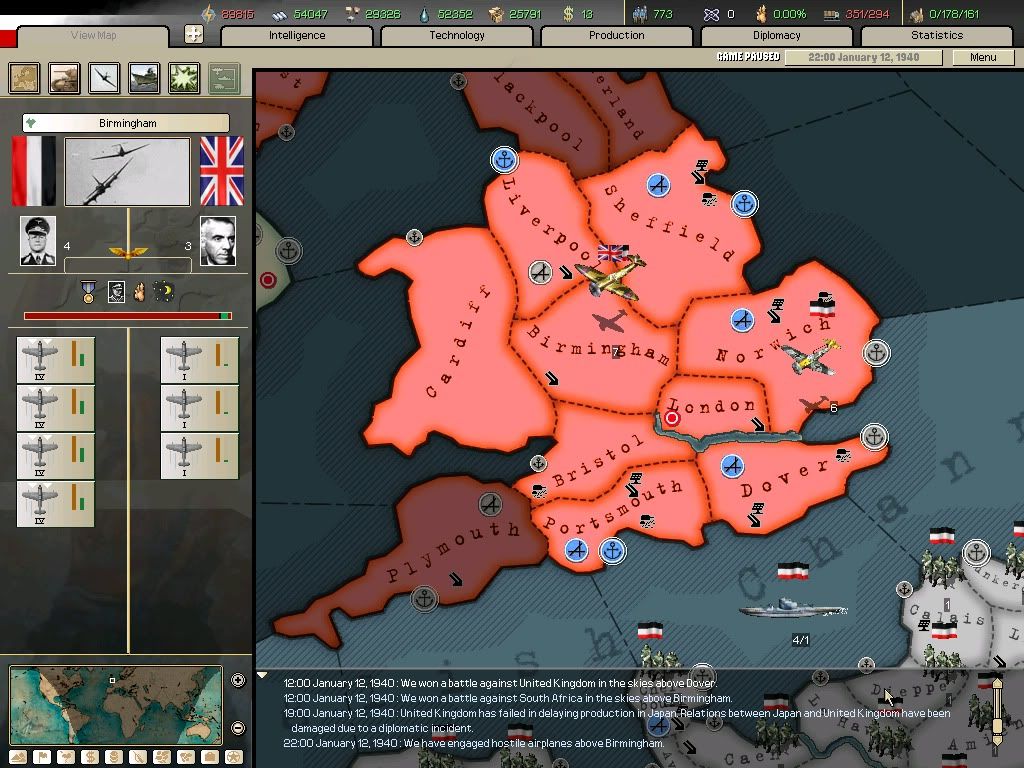 I need to expand my IC considerably. The UK, weakly defended but ringed by one Hell of a navy, looks like a good option.
The Altmark incident.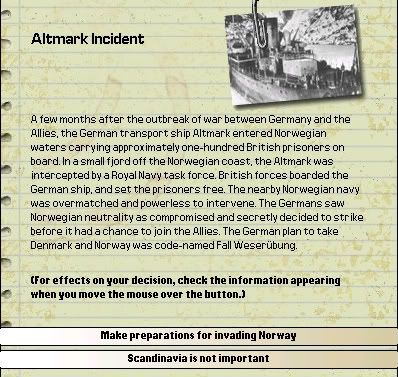 Went with prepare for invasion. I'm not going to for years yet, but that's not the point. I'm going to teach those Scandos a lesson.
It took some doing, but Yugoslavia have taken the Craziest Country Crown. Although there's been some tough competition this game, not least from Greece and Bulgaria, Yugoslavia, if you remember, joined the Axis, only to leave in an awful hurry. A bit nutty, you might say, but not really jaw-dropping. But what other country has joined a major alliance, then left it, then declared war on the other two major alliances in the game, first declaring war on the Soviet Union, then the Allies.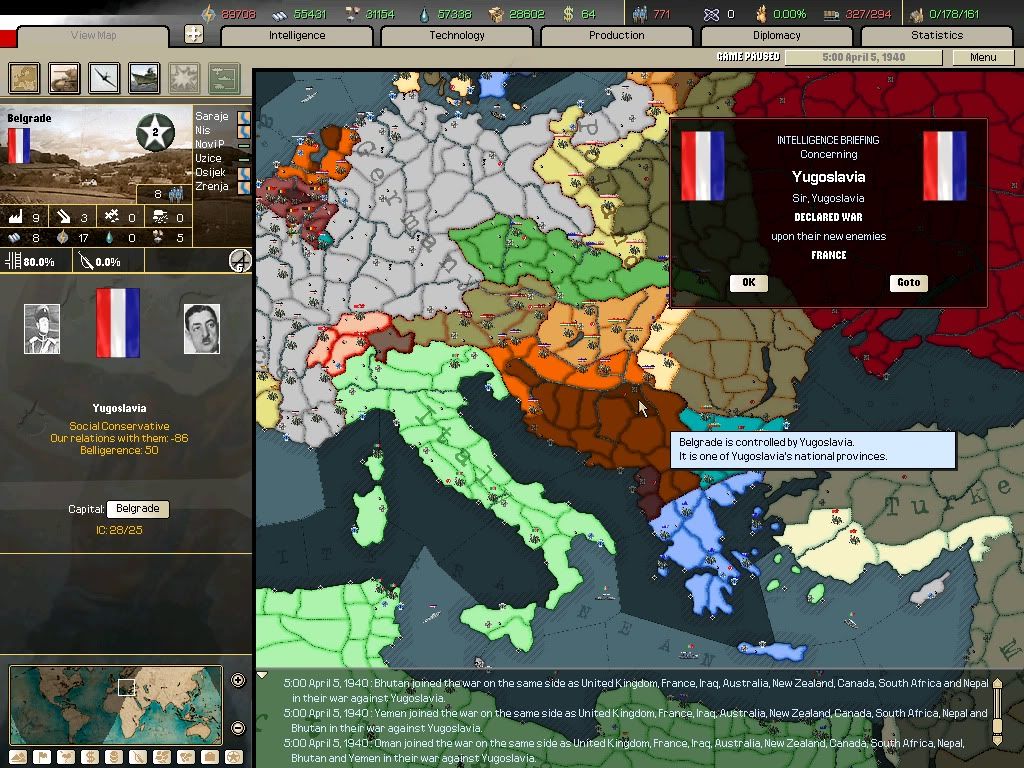 Yugoslavia, I salute you. With your Belligerence of 50, you have shown me the true path to frothing at the mouth and biting yourself. Now I suppose I'd better see about inviting them back into the Axis. The maniacs.
In an effort to lure some Allied forces away, I send a div in a troop transport to South America.
Lots of unguarded provinces and islands there. Taking them won't do much, but it will draw forces away, bent on re-taking their property.