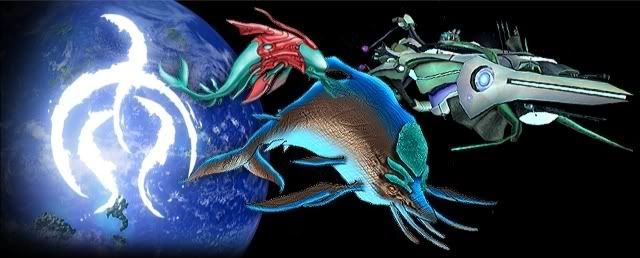 The shame. Shame and disgust. My own and that of others, blinding emotions running through my sanity. Whether I would endure or break was uncertain. But the pain was even worse. I felt every wound and heard every scream of my kind, battling across the expanses of the galaxy, leaving frozen water of Muur scattered among the debris of machines of war.
War.
My mind was filled with shame of my brothers, sowing death upon living creatures, risking their own reason in the cries. But finally I had to admit their actions are patches sewn over the Song, preventing it from falling silent. Still I kept my ears shut to the growing disharmony for as long as I could. Then the murmur of life upset started to invade my song, too. I couldn't bear it any more, listening and doing nothing to heal the chords. Elder at my age, others expected me to teach the young, sing and await my own end in meditation. Disharmony and silence take my age!
So I cloaked myself in shame of my people and took the exile. Swimming in the black sea, the machines I once loathed carry me around. I give the orders to take lives and bear the weight of consequences. I take as much responsibility for pain we cause as I can to make life of my fellow Black Swimmers a fraction easier. They care for me, too. Our song takes us through murky waters, each battle won adds to the harmony of life.
We will win and be reborn or die trying.