In September 1941, the Germans launched Operation Typhoon, with the ultimate objective of capturing Moscow. The Das Reich division, on the highway to the Russian capital, needs to capture a strategically important objective, a crossroads, where the village of Mozhaisk has grown. The Russians are taking not one step back, defending stoically and ignoring losses. The Germans are determined to continue.
The unstoppable force meets the immovable object.
OBJECTIVE
The objective is to capture the crossroads and the town of Mozhaisk. If all goes well, securing the road beyond the village is a secondary objective.
Overhead.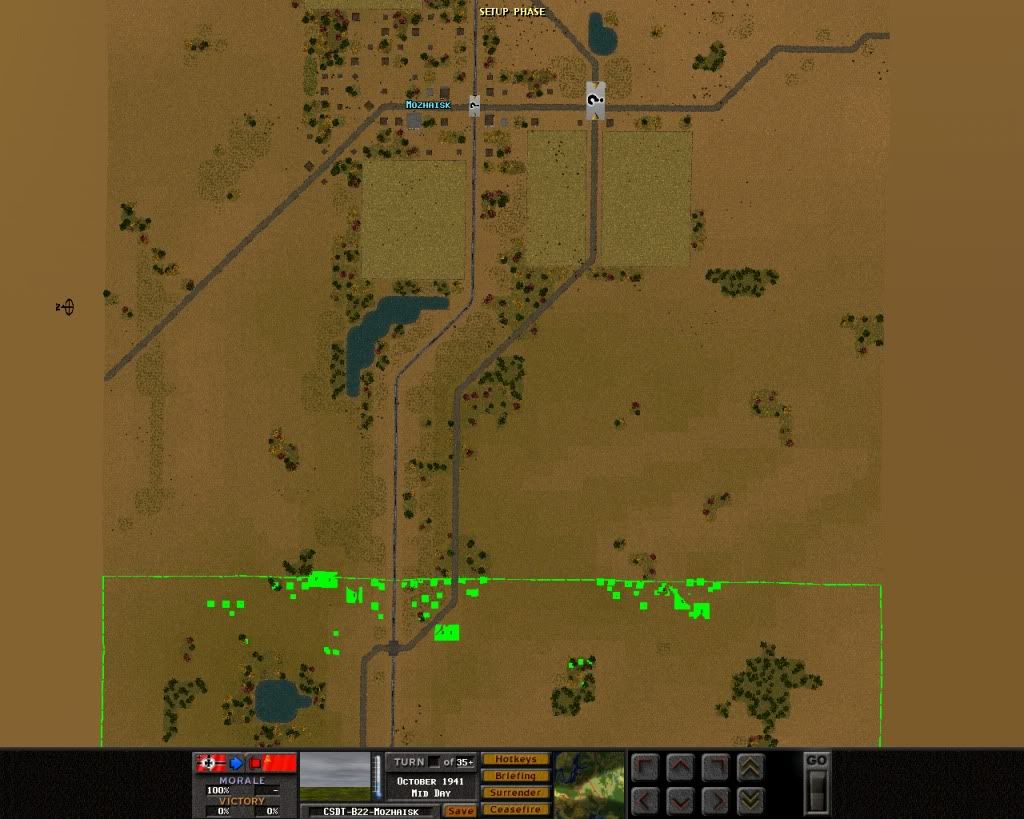 Approximately 700 metres from the start line to the objectives.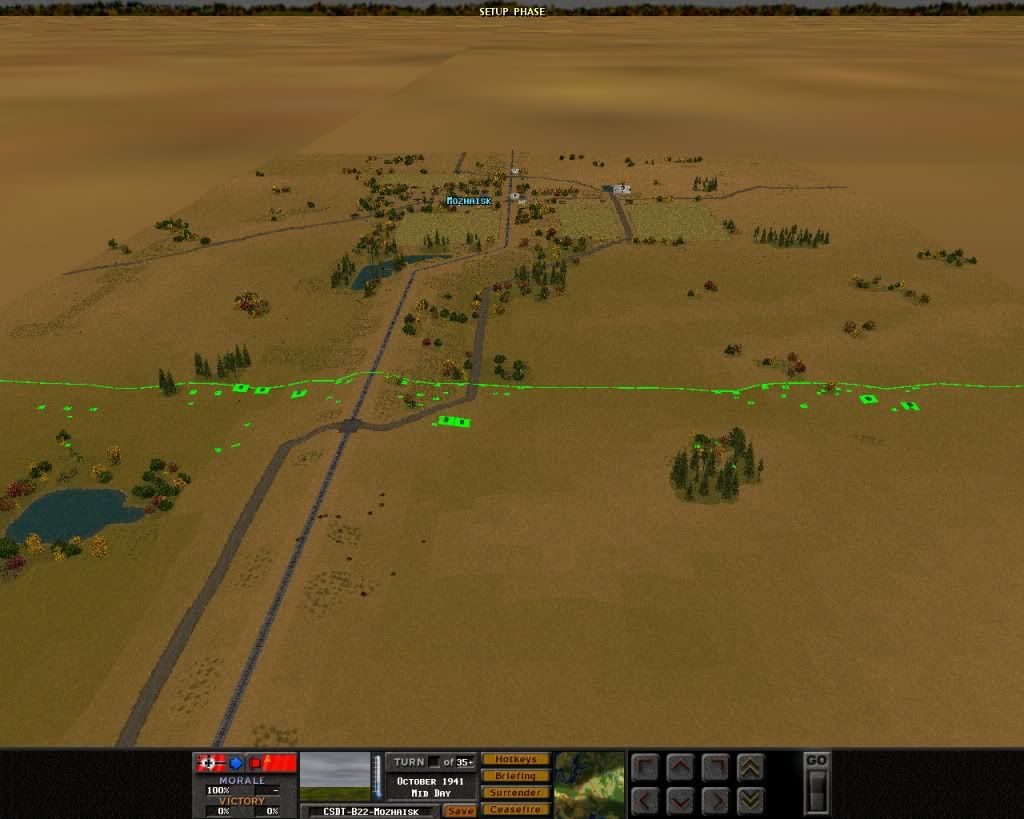 The lay of the land is interesting. The ground slopes up, mostly, towards the objective. The rail line running parallel to the road down the centre of the map is on a bare ridge, suicide to use that. To the left of that, it's rather bare, some patches of trees, some shell craters. In the centre, it's not bad at all, plenty of trees and brush. On the right, the ridges could be used as cover IF the troops can cross the ridges before getting shot up.
Reverse view.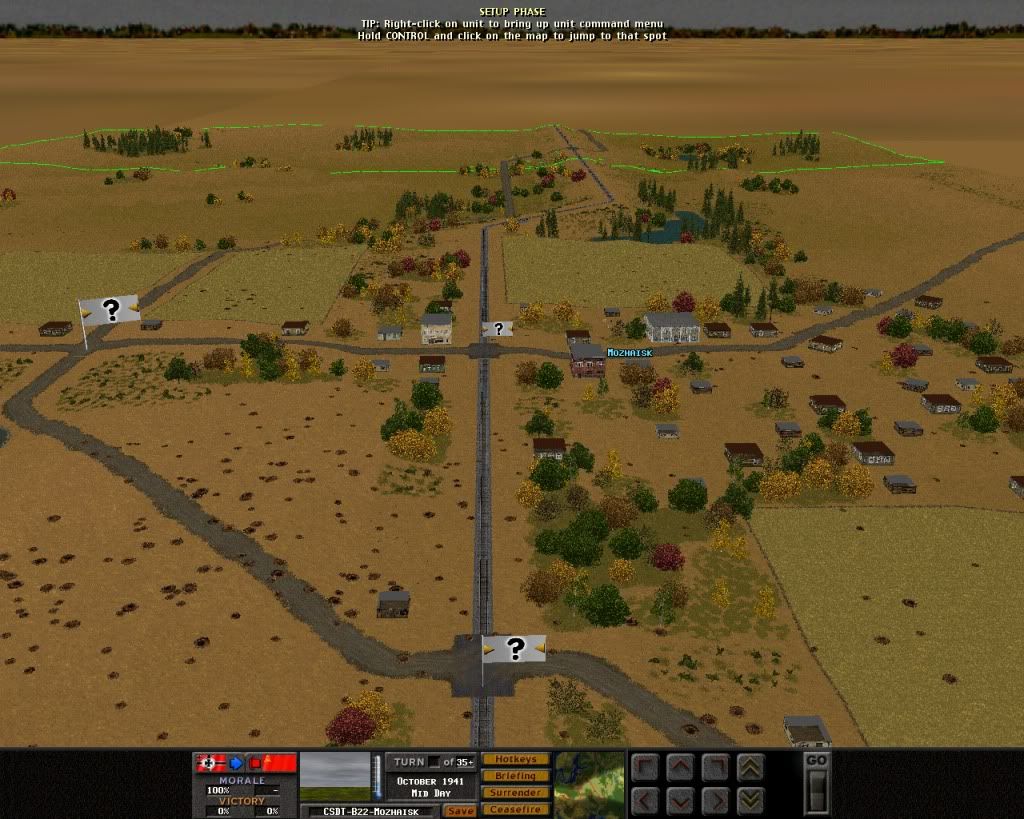 FORCES
I have an infantry battalion to play with, 3 companies each consisting of 3 platoons. Each platoon has four units, three sections and a HQ. The sections are the sexy kind with two MGs, plenty of firepower.
For extra firepower, each platoon has a 50mm mortar team. I've taken these teams and grouped them into two lots, instead of having them try and fail to keep up with the infantry. They'll be providing bomb-droppy services from cover.
6 MG 34 heavy machine guns.
7 Sturmgeschutz assault guns, my only armour. Respectable workhorses, but not tank killers.
1 105mm artillery spotter, with a rather meagre 60 rounds to call down.
PLAN OF ATTACK
Main thrust will be central, 5 platoons, backed up with 3 Stugs and 2 MGs.
On the right, two platoons will attempt to cross ridges as fast as possible and get into the gullies. Repeat 'til objective is reached. In support, a group of 50mm mortars, and 2 Stugs. Behind the start position on the right, atop a wooded hill, 2 MGs and the arty spotter wait, commanded by the battalion HQ.
On the left, prospects are slim. I'm not really expecting to get anywhere here, the ground is rather bare. 2 platoons, 2 Stugs, 2 MGs, and a mortar group. Hopefully they can grind forward into positions where they can give fire support to the main attack at least.