My intention with the ceiling was to retain its wooden look yet to make it lighter, thus room look bigger and keep a lot more light.
So I decided to buy a white non-covering lacquer, dissolve it a bit more and apply a thin coat. This would make original dark brown colour a lot lighter.
Starting.
Close up.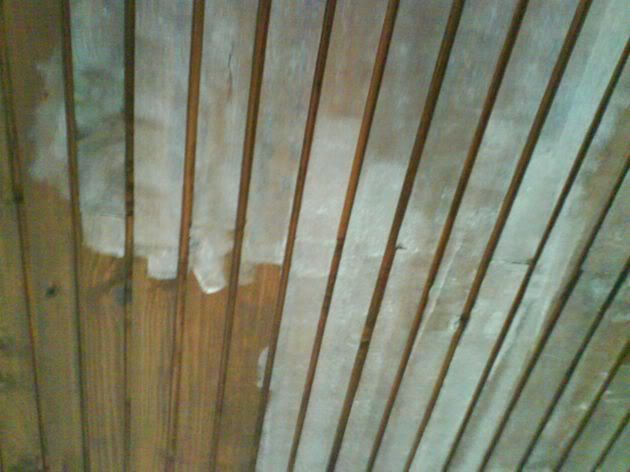 When I finished kitchen, I took this photo to show you a comparison between former state (on the right, living room) and later state (on the left, kitchen).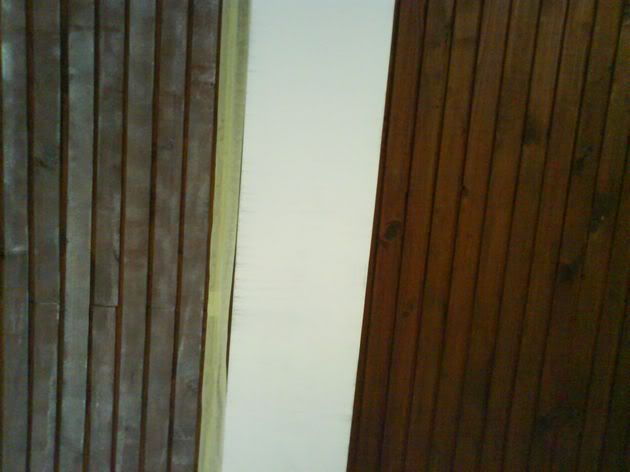 So. Do you see silk-like evenly applied coating that made my ceiling look lighter?
You don't?
THAT IS BECAUSE THERE IS NONE, DAMMIT!!!
It looked cool on the tester, a board that I painted. But the board was not a big one and it was very smooth. I was able to apply the damn lacquer very evenly. THIS crap looks as if...
I COATED THE CEILING WITH A THIN LAYER OF BIRD POO!

Anyway, I need to meditate on this bird poo a bit, but it is most likely that I'll buy a covering wood finish and paint the damn ceiling. It will look somewhat plastic but compared to what I did...