Ok so here's the reason I've been trying so hard to get Apocalypse running on one of my systems and additionally why it's been so frustrating trying to get screenshots to work! Anyway, all of that is now sorted, thanks to advice from members here, so here is some light reading for fans of the game!
Firstly I have to state my position on the game as I was never a big fan but then I've never really given it a great deal of time and even my most recent playthrough would have been on a far too easy setting and riddled with reloads.
For this playthrough I'm going to be following suit of the other AARs here and going for Superhuman Ironman. No loading except for continuing the game from a quit or a crash. If you haven't seen the other AARs here go and check them out now,
UFO : Enemy Unknown
and
Terror from the Deep
.
Now I'll confes to having one 'warmup' mission on this game before settling into what you're about to read but it was by no means a cheat. In fact if only I'd have been taking screenshots when I played through the first mission originally I would've done much better off! I setup my base and saved the game while I was still trying to get screenshots to work so there was much quitting and reloading and eventually (still unable to figure out screenies) I decided to just play a mission for Nostalgia's sake to get me back into the feel of the game.
The mission was in the same location as the first one I did for real so I guess it already determined location when I first saved the game. Anyway I went along with the 10 troopers I started out with and their default loadouts. Fought the blue things and loads of brainsuckers but only lost one unit to that attack and noone else at all. Final enemy count had only been 3 Bloo's and one BS! But as I had no pictures I figured I couldn't use it so I didn't even save...
Then I worked it out and went back to the first save and here's what happened when I started playing for real!
First thing I did for this was piece together a complete overhead map of the city on Superhuman ( I think I'm right that difficulty level increases it's size) so here it is. My base is the warehouse in the west, better than the poxy slums! It's surrounded by a blue square.
As I've been away from the game for so long I didn't do very much in the cityscape so I'm hoping I remembered everything (after all the forumla remains the same as the first 2 games) I started building a security station at the only good situation I could see for it and also an extra living quarters as after hiring a few more biochemists and Quantum physicists I found myself full up on personnel! Started researching Dimension gates and bio-transport units and then did some shopping to lose some of Apoc's worse weapons. Decided to stay basic and for now equip my ten man team as two, five man squads. Each squad has a sniper for long range support, 2 machine guns with 2 reloads each and 2 cannons loaded with AP rounds, 1 reload of each ammo type per trooper. I also ditched the smoke grenades (who needs cover right?!) and went along with each trooper carrying 2 HE and 2 stun grenades with personal medikits for each trooper.
The base now looks like this;
So I let some time pass while my new scientists and equipment arrived and no sooner had I finished equipping the squads as above than I got my first alert. That's one freaky siren by the way, sounds broken! It was as I mentioned in the same building as I'd played my rather successful practice round so I was confident. Especially now my troops didn't have those pathetic stun grapples and lawpistols and such! The Valkyrie Interceptor took all 10 soldiers across the slums in the city-centre and soon arrived at the megapol building to bail out the coppers.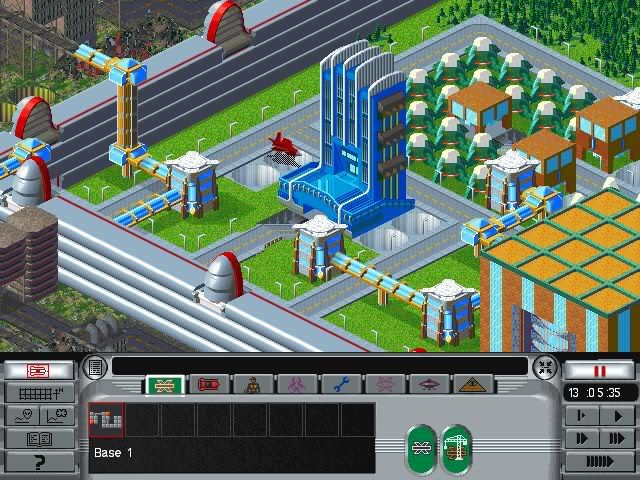 The troops recieved a quick briefing after enjoying a light lunch on the flight over and then split into their five man squads.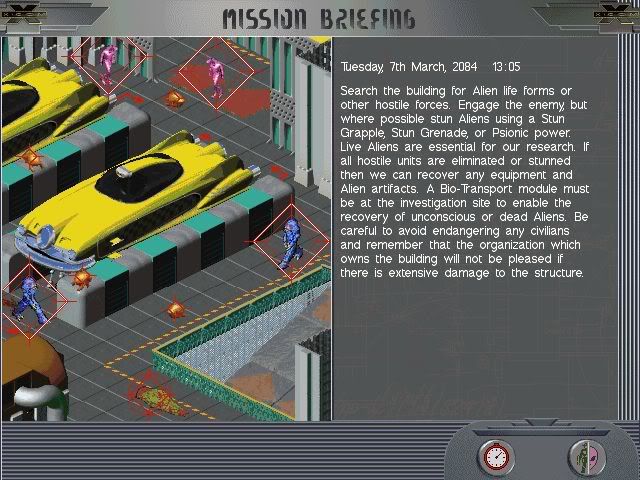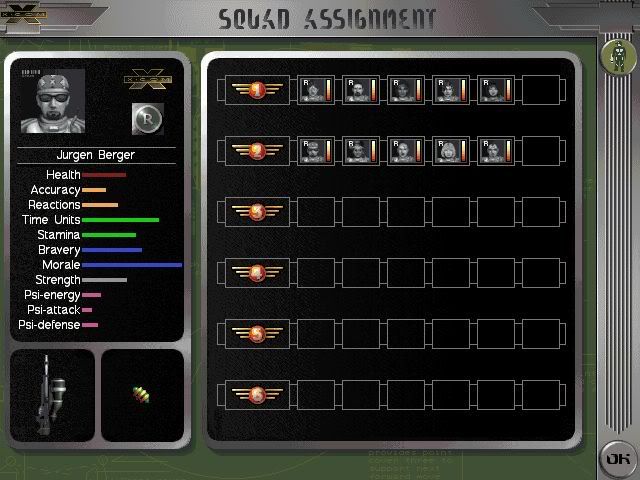 Now it was time to get it on! Thankfully the building was arranged differently this time as I would've felt at an unfair advantage had it been the same as the one I'd just played but the rearrangement of components I knew was still fairly good for a first mission. The map seems to be fairly small and only 3 floors, the top of which is just empty space and the bottom of which is a sort of basement/sewer area.
In my last playthrough all of the aliens were in a small assembly-like area near the basement and the only lost trooper died because of poor pathfinding. I clicked to go up some stairs by selecting a ground floor square but instead of ascending the steps this idiot walked TO the square I'd clicked and got brainsucked due to lack of backup and TUs :S I'm playing in turn-based by the way but I'll probably experiment with both along the way to see which I prefer and which better suits an AAR.
My two squads started at opposite ends of the small map but with relatively little ground to cover I felt particularly confident about this forray. I sent the uppermost Squad1 North to find the edge of the building and they found nothing interesting for a very long time. Squad 2 at the bottom moved out of therir one-way corridor into more corridor and began some systematic door opening and room searching.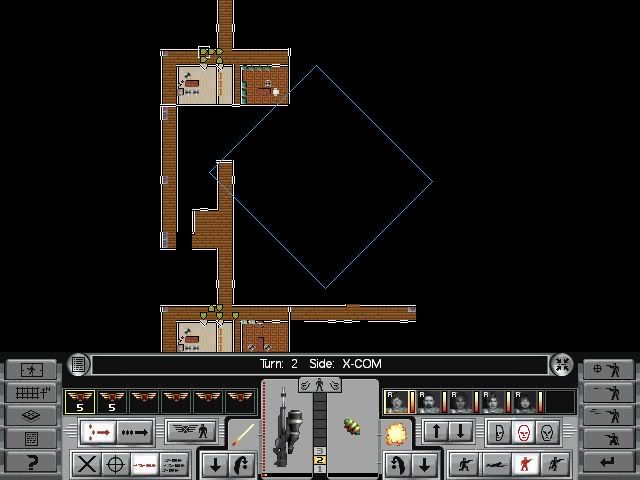 On the above image all 4 sides of the map are already visible so it really isn't that big. On only the second or third turn we made first contact as Jurgen, the Squad2 Sniper spots a strange blue creature through the plexiglass door in the corridor ahead of him. Line of sight maybe but he can't get a shot off so he takes a knee and holds position at a great distance while Squad1 attempts to flank the position from the north. A second alien is also spotted in the same stretch of corridor next turn and in the hidden movement a total of 3 are seen walking the same stretch of hall!
Squad1 is confident that they won't encounter any hostile forces in their end of the building with 3 already spotted to the south so they continue the door-opening operations with wanton abandon and continue the march to outflank the Bloos. Meanwhile the 2 soldiers holding the corridor north of squad2 take position in the room directly to their right and take positions by the next door.
Disaster strikes! Squad 2's scout team are completely surprised as the door they're watching opens on the alien turn to reveal no less than 2 Bloos and a barrage of brainsuckers commences!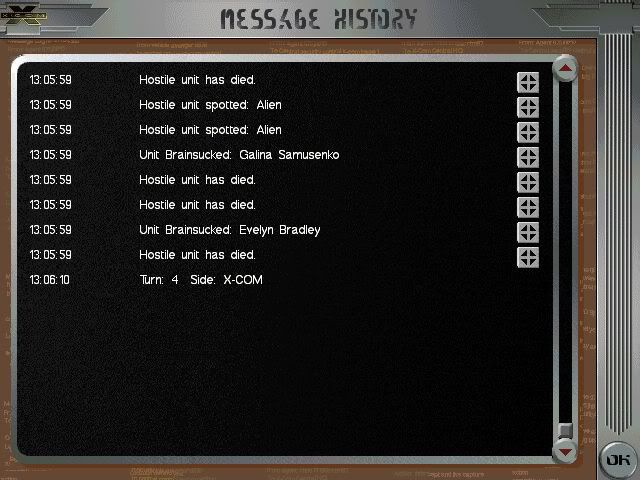 There are no survivors...
The southern troops of Squad2 now find themselves flanked by their own former teammates so while Virgil continues to hold the corridor to the East the remaining 2 troopers move to cover the doorway of the now heavily occupied room to the north.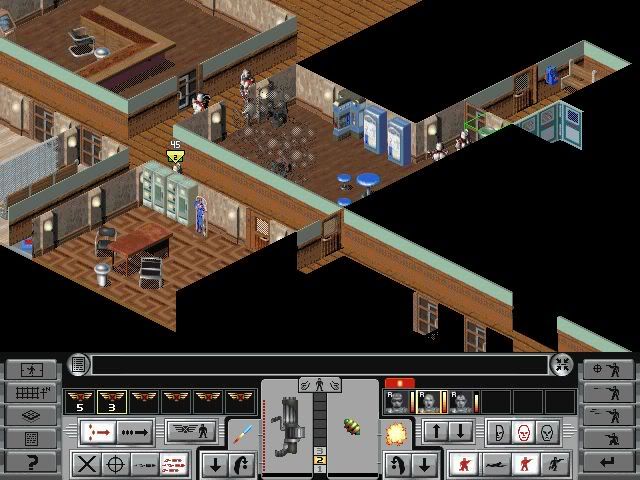 The door guard of Shigeru, armed with an MG, and sniper Jurgen attempt to storm the position and each toss grenades set to detonate on impact. The first falls right in the doorway but no serious damage is done and the second grenade finds it's target but mysteriously never explodes... Both troopers withdraw and prepare for a possible outbreak.
The very next alien turn the breakout is imminent! One of the brainsucked troopers rushes straight past the doorguard with no reaction fire and the surrounding area proceeds to erupt spectacularly! It seems this former ally has switched to incendiary ammo and the narrow corridors make the next few turns a nightmare!
Miraculously noone is seriously hurt with only 1 trooper taking slight damage. In XCom's turn Jurgen snipes the rogue Commie several times with no results and subsequently takes cover in the office directly opposite. Shigeru lays down some automatic fire with multiple hits but the brainsucked Commie appears oblivious to the multiple wounds and stays standing. Shigeru attempts to flee from the soldier and the fire and leaves to the North but doesn't quite make it round the corner.
Meanwhile Virgil who was left guarding the Eastern corridor moves to assist in the hope of preventing any further incendiary fire but while 4 AP hits from his autocannon extract multiple screams from the zombie, it still doens't fall... Further assistance arrives from the North as a detatched member of Squad1, Michiko, joins the fight. 3 aimed shots fly past Shigeru but despite more hits the creature still doesn't fall.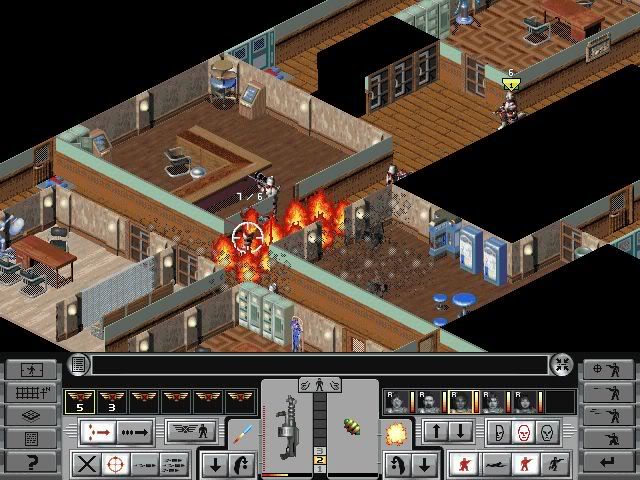 In the next alien turn Virgil's last wish is that he'd continued to cover the Eastern approach as no sooner has he turned his back to it he finds his brains inside out and his dinner in his pants. The other errant Commie proceeds to fuel the fire right at his feet by letting off several more incendiary rounds but again noone is hurt and the brainsucker's offspring seems to be unaffected by the smoke inhalation...