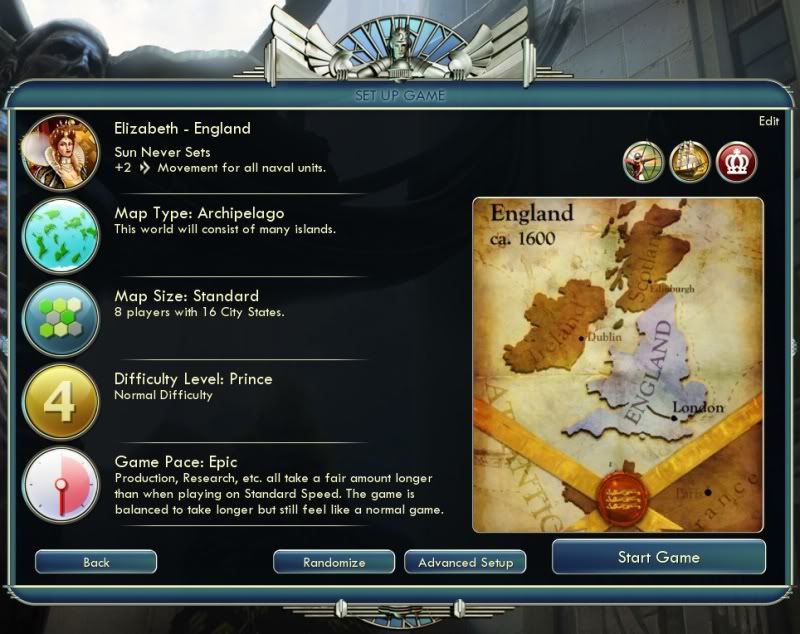 You guys promise not to lynch me if I screw this up too badly, right? No horrible beatings if I dishonor the land of tea and crumpets, right? Right?
...Guys?
Ah well, nothing to do now but charge ahead!
Here's the setup:
I shall be playing as her Majesty, Queen Elizabeth of England. Doing so gives me +2 movement to all Navel forces (I don't think this counts for Embarked land-units, however[I'll explain later, don't worry!]). It also gives me two unique units; The Longbowman and the Ship of the Line.
The Longbowman has an impressive three-tile attack range, compared to the usual two-tile range of the crossbowman(which it replaces) and most other ranged units.
The Ship of the Line replaces the standard Frigate, and can see one tile farther, hits a touch harder, and costs a touch less to construct.
The other details: To abuse the naval aspect of the English, I will be playing on an Archipelago map, which is fancy speak for lots of small-to-medium islands.
To help counter-act this, there shall be eight other Civs in this mess of islands, along with a whopping sixteen(!) City-states(one-city-only Civs).
Difficulty will only(HAH) be Normal for this playthrough, and my preferred pace of 'Epic' will be used. The game pace simply modifies how long it takes to build/research/grow/kill/win/etc everything. Epic-length games will take a touch longer than 'Normal'-length games, but are balanced to feel only slightly longer, if not the same.
Does that cover everything? I think so! Back into the breech lads, we must discover what horrible things Murphy has in store for me!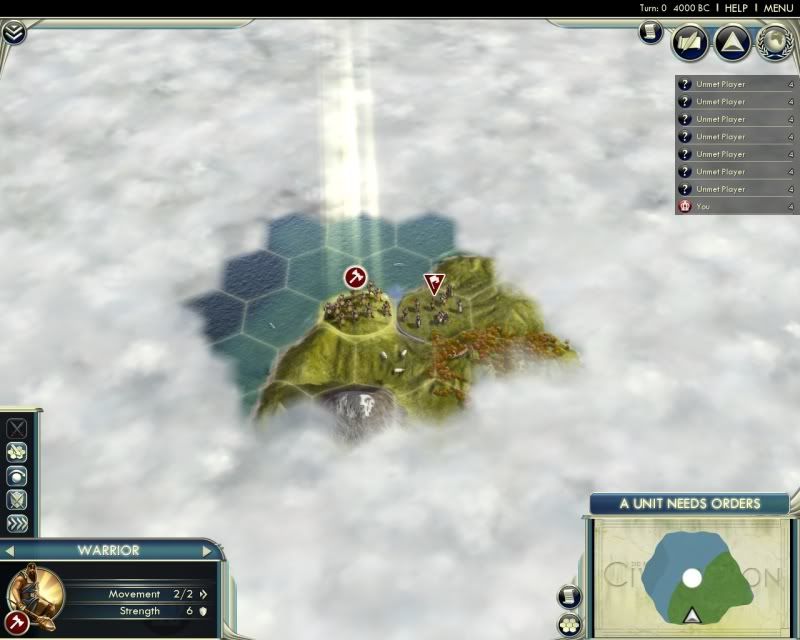 Annnd that's not too bad of a start! My settler is actually pretty much exactly where I would want him, really. Nice start, which suggests things will only go downhill from here...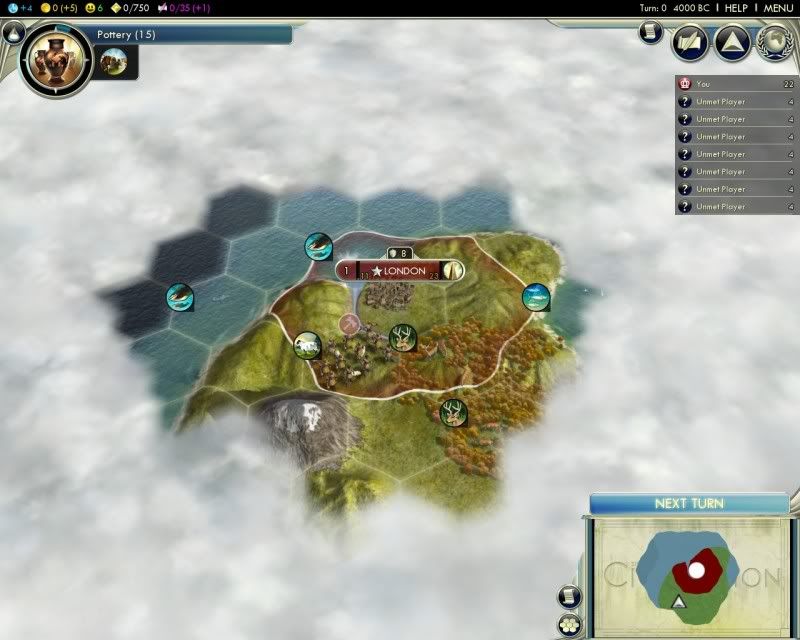 Okay, still looking good! A Gem or Gold or even a Silver amongst those hill tiles somewhere would've been nice, but beggers and choosers and all that; I can't count the number of times my starting location has been totally horrible.
All things considered, fairly decent. Plenty of Hill tiles to help with production, four different food-bonuses to offest the large amount of hills(Two Deer, a Sheep, and a Fish; for those curious), a small river to add a tiny amount of gold in m-the country's pocket(hard to see, just to the left of the city), and two Luxury bonuses(the Whales, Cap'n!) to round out the set.
There are three types of bonuses, or Resources:
Food bonuses, shockingly enough, give a decent amount of bonus food to a city that works the tile containing the bonus. These types of bonuses are fairly common, and are things like Deer, Sheep, Cows, Fish, Wheat, and the like. The bonuses can also be increased in various ways by the different improvements you build on their tile; fishing boats for fish(dur?), hunting camps for deer, and so on.
Luxury bonuses are fairly straight-forward: They not only give some sort of tile bonus, but they also add +5 Happiness to your Civ, but only ONCE per resource. For example; working one of those Whales (with the proper tile improvement) would give me +5 Happiness, but working the SECOND would give no happiness bonus. However, I would then be able to trade away that second Whale to another Civ for something I don't have. Like money, as is usually the case...
(I'll try to hit Happiness at a later post, promise.)
Finally, there are Strategic resources. Things like Iron, Horses, Oil, and so forth. Any of these can provide some sort of city bonus(extra production, gold, whatever); but their main purpose is enable various certain units and buildings. For example, Swordsmen require Iron to be had before you can build them. Horsemen, oddly enough, actually need HORSES, and so forth. I'll cover these in more depth as we hit them.
SO. We have a city built! What shall we do with it? First things first, we shall build a MONUMENT!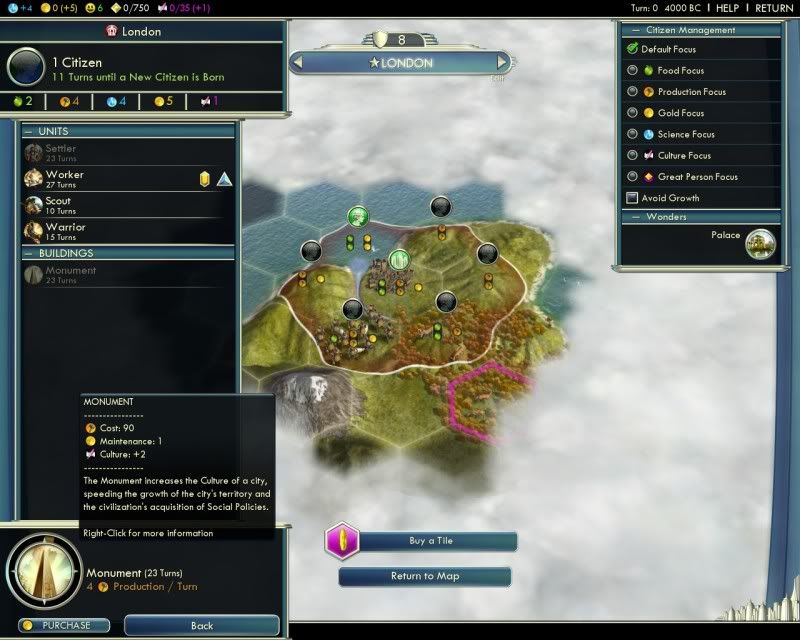 ...No really. Monuments have a single purpose that fufills two duties at once. They add a small amount of Culture to a city every turn, which increases the rate at which your city expands its' borders, and also add the same amount of Culture to the Civ every turn; enough of which will allow you to adopt various Social Polices.
...Have I overloaded your brain yet? I wasn't joking when I said there was a truckload to take in, huh?
Next up, we take a look at the overall scheme I have in mind for this fledgling backwa--amazing country, and the means to achieve said scheme!