The independent colony surrenders to me. Only possible due to researched Xenotechs.
Funny though... It is a planet with developed infrastructure and a lot of Tarka population. You don't see them in this screen, populations of other races are only seen in Population manager. The funny part is that it a burden to my empire! Lazy Tarkas... ;) I posted this in the Kerberos forum, it could be a bug. IMO a colony with infrastructure and enough population of any race should be giving money. Otherwise it may have been better to just kill the lot.
Anyway, I decide not to Morrigiform the planet. This will keep the number of Tarkas there high but my own people will trickle in much slower as our two races are pretty far apart in the Climate Hazard. If I wasn't this certain to win I would not be this nice to indigenous population.
This should be interesting!
Tarka are coming in force to a Zuul planet, which has more or less all the remaining Zuul forces. The cause of this is my previous attack on this colony. Zuul scrambled defences and than I noticed that a Tarka cruiser fleet is coming to that same colony.
Soooo... why not let them fight it out?! I retreated and am only sending a scout to see what weapons both are using. Most interested in Tarka weaponry, naturally. We didn't fight for quite some time so they had time to do some magic on their own.
Sadly I wasn't able to take good pics, the scout barely survived as it was. Tarka went for heavy combat lasers. A pretty powerful weapon with decent range, but against drones... useless. Until they catch up with drone carriers, he he he!
Just a nice pic I wanted to share...
It is our tradeship that was attacked by pirates. All trade ships survived thanks to out colony defence forces. At least once they were fast enough.
Worth a try...
Perhaps we should stick to hands-on diplomacy.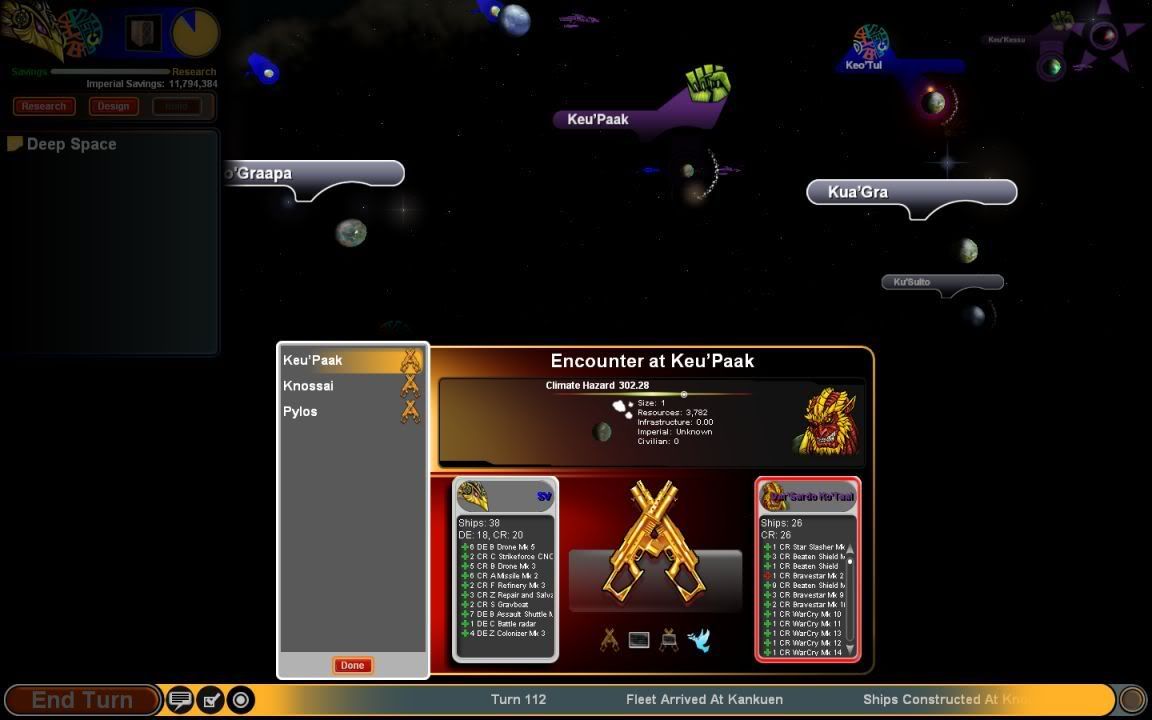 So far we have seen nothing that would endanger us.
State of the empire:
In the next battle I was very pleasantly surprised by Tarkas - they constructed deflector - point defence ships!
Deflector command section - stops all physical object from the front, causing out missiles to be stopped almost entirely.
Point defence mission section - a LOT of small mounts with great coverage. I guess they must have gotten PD from the Zuul. They also mounted gauss PD on them and those ships ripped out drones pretty good! But their ships didn't have time to reach out carriers after dealing with drones - and those still did quite some damage before being destroyed. Combined with repair ships that replenished the drones during the turns we still ruled the skies.
Anyway, this was a Morrigi-optimized combination, a great example of SotS AI.
Time to wrap this up, guys.
Soon Tarka empire surrendered. Sadly I have no idea where I lost the screenshot.
Both main fleets were now able to deal with Zuul so the result is predictable.
I know this was known for some time but such a picture is always nice to see.