Hired by Enrico Chivaldori to overthrow his evil ex-wife Queen Deidranna and free Arulco, off I go, absurdly optimistic.
In this game, I will be playing Expert/Tons of Guns/Iron Man/Sci-Fi, because I've played JA2 a lot over the years. I'm not very good at it, but I have played it a lot.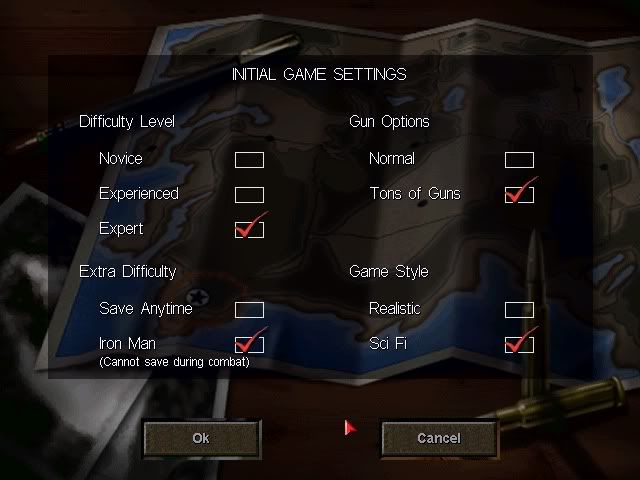 The only initial recruiting point for mercs is the Association of International Mercenaries, whose range of crazed killers stretches from the budget-priced thugs like Bull, all the way up to supremely skilled thugs like Gus.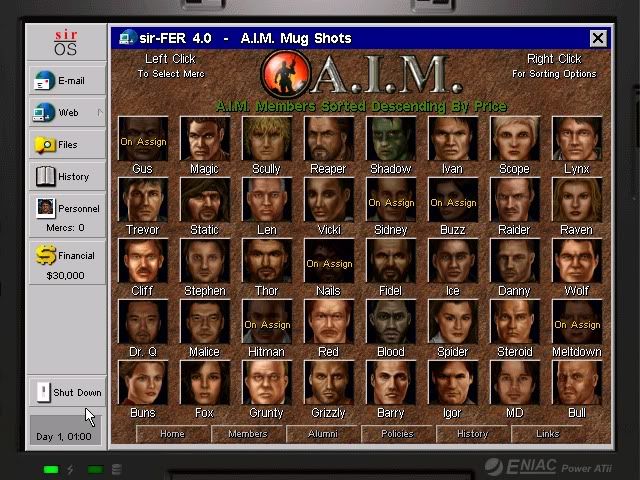 I quickly pick out a squad that I can afford. $30,000 to hire mercs to overthrow a country? I like value for money too, but where's your sense of proportion, Enrico?
Barry is my explosives 'expert'. He's also a decent shot, good Agility and Strength, and his high Wisdom means his skills will improve quickly. He's also going to be my mechanic, unless I gain a sudden windfall allowing me to hire someone who knows that maintenance sometimes goes beyond simply hitting things. $6,995.

Barry forgets the whole 'heavy breathing' thing and ruins the call.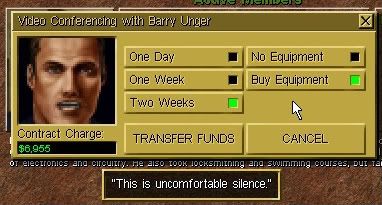 Bull is cheap muscle. He's very strong, slow, and capable of beating the living shit out of anyone who is not currently Superman. Or Batman. $4,500.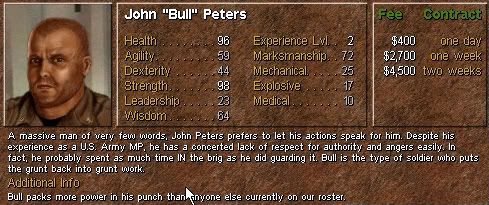 The call goes swimmingly: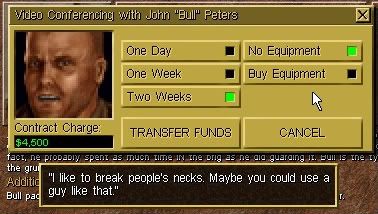 Grizzly is a good all-round soldier, and is also skilled in a bit of the old fisticuffs. $6,000.

Malice is the last member of my not-very-rounded squad. A good soldier, he also likes stabbing people in the face and kicking them in the balls (not always in that order). $10,000.

Being Quebecois, he has certain 'eccentricities':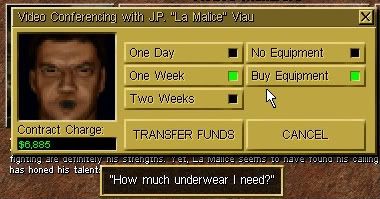 Malice's frilly undercrackers aside, I have a decent squad here. All fairly robust, (in my games, 'Bull' is often short for 'Bullet Sponge'), with two places left for a mechanic and a medic. Barry is a decent bomb doctor and improves quickly. Grizzly will usually develop into a kick-arse soldier. Bull can't really be any better at beating people up than he already is, but he sometimes manages to ignore his slow metabolism and fast pie arm and actually run a bit. Malice is nippy, and packs a decent punch. Because of his Dexterity, he's also good at chucking grenades (Grizzly and Bull excel at 'accidentally' hitting friendlies with them thanks to their low Dex).
Bull, Griz and Mal have been hired without equipment, because they're going to live off the land (read: get shot a lot and nick stuff). I want the explosives and other kit Barry has, so he's lucky, being the only one turning up with armour and a gun.
Arulco, in all its glory: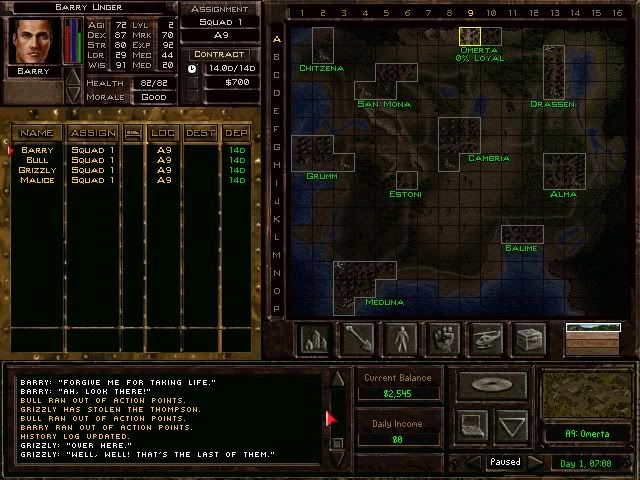 The M-Team (M for 'Manly') drop into Omerta, the first town of Arulco. Who lies in wait? Who would
dare?