In the tight confines of the Med, my subs have less luck than average: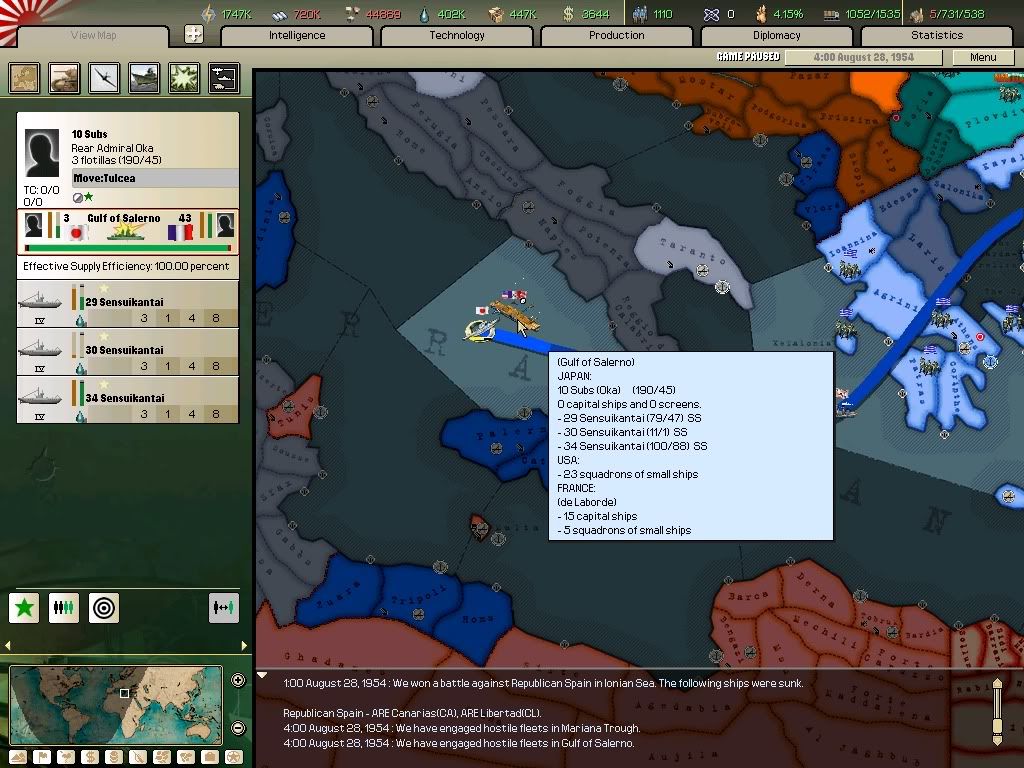 There's at least three major fleets currently swishing about in this sea, one French, one British and one American. My subs cleverly bumped into two of them. Slightly overconfident.
Even out in the Atlantic, my subs aren't safe: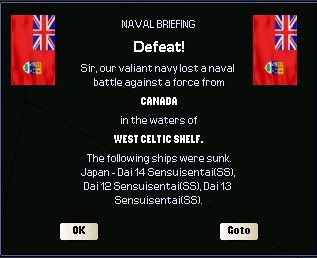 The Canadians may not be able to summon dozens of aircraft carriers, but what they do have is lots of small ASW groups, which have the North Atlantic tied up tight. Even my nuke subs are taking a beating. I added another four production runs of nuke subs, given the startling casualty rate.
First instance of carrier versus carrier: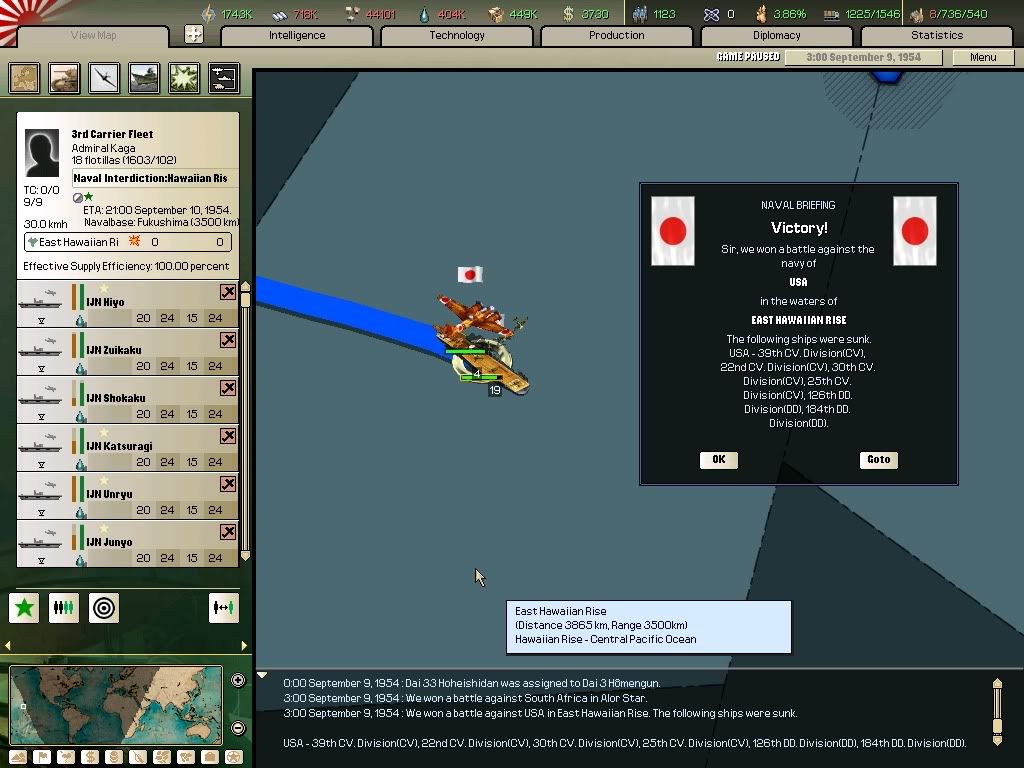 Note the nav bombers weighing in. I'm actually quite pleased with that result, four carriers and two flotillas of destroyers for no losses (though three carriers and various screens were seriously damaged). That's exactly the sort of action I need to win in the naval sphere. Mind you, that's usually what happens when an 18-ship/flotilla fleet meets a 7-ship/flotilla fleet, nav bomber support or not.
Ooooh,
nasty
:
My 18-strong Med fleet bumped a 30-strong Yank fleet, and this is the nasty result. Yes, I sank seven American carriers, and other ships besides, but I lost three of my carriers, and with the Suez blocked, I can't send replacements. More to the point, the Yanks can afford to lose seven carriers, I can't afford to lose three. A few more victories like that and I'll have to get out of the pool altogether.
The British, squashed out of Hong Kong, launch an assault on Asia:
This was stopped and thrown back into the sea in short order, but still. Thank God for the Siamese. If that had been in strength, I would have been in trouble, as my transport fleets are either trapped in the Middle East, or busy shipping my troops out to assault American islands. I also made a MASSIVE cock-up of my first amphibious assault, sweeping the route once with a carrier fleet and then moving on, only for a sneaky Yankee fleet to send a pair of transports (and the inf divs on them, experienced veterans) to the bottom. By the time my carriers returned, the Yanks had fled the scene and my TPs had to skulk back to Japan to lick their wounds. This happened again with another fleet of TPs, and I lost another two, and the divs on them. I was absolutely furious with myself and genuinely considered reloading. True, it was only four TPs and four inf divs, but it was such a schoolboy error.
France take Potsdam from me:
Enjoy! I've instituted a bit of back-and-forth here, letting them take Potsdam, and then counter-attacking from Straslund, Berlin, and Cottbus. Never going so far as to take Potsdam back, though, meaning they keep pushing into it and I keep knocking them back.
Things are getting desperate in the ME: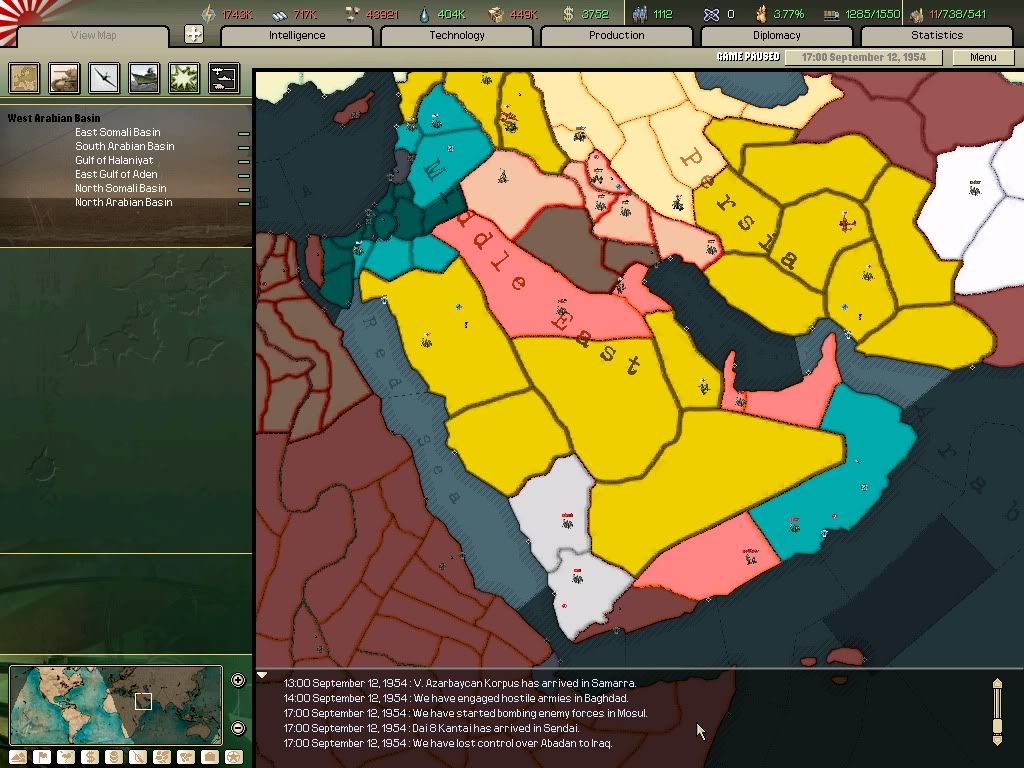 I dismissed the smaller Arab nations, which was a bit of a mistake. Their forces may be small and provincial, but they still exist, and they're causing me trouble. I've got Iraq locked down, thanks once again to my paras, and 'stan forces, but the Brits are coming out of Kuwait City, and the Yemenis and Omanis are prodding away at me too. If the Empty Quarter wasn't there, they'd have Saudi captured already. I only have one inf div at Medina, which, as high tech and hardcore as it is, won't be able to hold. I need Medina, as I've got a carrier fleet sailing out of there, blocking the Red Sea just as effectively as the Brits have blocked the Suez.
I need to get some inf divs in there, and it just so happens I have some spare, in Japan. But, the TPs I have spare are in Bandar Abbas, my Persian port. The chances of them making it from the ME to Japan are fairly small, I would say. I can't spare a fleet to escort them, either.
My battleship fleets, guarding the Chinese coast, are doing rather well. They may be old school and not up to taking on modern carriers, but they are tough, and more than up to putting a crimp on the Allies' naval shenanigans. They tend to deal out and take heavy damage, rock back to port, get repaired, and rock back out into the sea lanes, crew obviously sake-insulated against the horrors of war.
Speaking of drunks, my fighter pilots are doing terribly well, having put almost a complete stop to bombing in Europe. They've taken all comers, and done fearsome damage to the lot of them. French, British, Canadian, American, Australian, Phillipino, you name 'em, my boys have peered at them through an alcoholic haze and engaged them in combat regardless of the amount of vomit covering the cockpit.
I simply don't have enough nav bombers. I thought doubling the size of my nav bomber force a few years ago would do the trick, but it hasn't. The Pacific alone would require about a third as many again to get good coverage. Add in the Med, Black, Red, and Indian seas, and they're stretched thin. I also thought putting them on constant patrol of a hotspot would work, but it doesn't. The enemy use the fiendish trick of
going around
my forces, which means my nav bombers happily cruise the friendly skies while enemy ships slip by. I've started using them as a QRF, sending them out solely to support my fleets when they engage enemy ships in combat.
The Pacific is massive. I've underestimated it completely. I have nowhere near enough ships to patrol it, even if I used my battleship fleets and the obsolescent odds and ends hanging around. My carrier fleets are fast and hit hard, but they can only cover so much ground. Bracketing American islands with them works well, as Yank naval patrols and TPs sail right into my ships, but that means their forces are also free to sail the wide expanses left open (one small fleet got far too close to Japan before being bombed to pieces, no threat in itself, but it exposed just how vulnerable my islands are if my carriers aren't patrolling).
I can't lose the ME, it's the home to two nice big ports (and the only ports I am likely to have there without a major land offensive) and it's the only naval link between Asia and the Black/Med seas. More to the point, I have to hurry up and capture the Suez. Paras to the rescue again...?